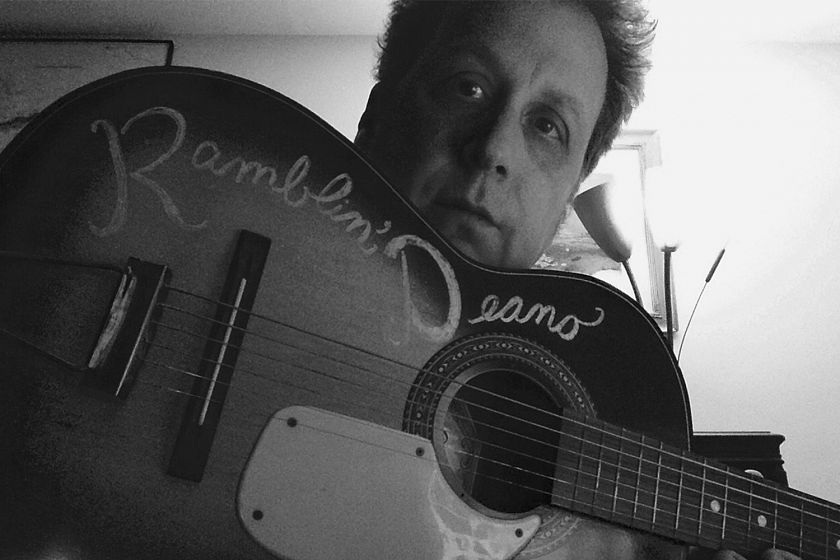 Ramblin' Deano
Ramblin' Deano
My life in bands...
Growing up in the Milwaukee area, I started playing in bands during the beginning of the era when punk and new wave began to gain some traction, playing my first club gigs in 1981. Initially, I played keyboards, since I had years of piano lessons while growing up. At 16 years old, I decided to switch to guitar. I began writing songs at that time, since the prevailing attitude in the punk/new wave world was that cover bands were bullshit. Only bands doing original material were worth your time. Modern Values was a band I formed with high school chum Jim Warchol and a Dr. Rhythm drum machine. We eventually added a drummer and even did a little recording, which never saw a formal release but was played on local radio station WMSE at the time. I don't even remember why we broke up but the band fizzled out at some point.
From there, I moved to Minneapolis and worked for an import/indie record distributor from 1984-1987. The scene there was incredibly vibrant at the time. Inspired by the more aggressive music I was exposed to both at my job and in the clubs there, I formed Wreck when I briefly moved back to Milwaukee. The band eventually settled in Chicago, where I worked for the Wax Trax! record label. Through that job, I was able to get the band signed to a sister label, Play It Again Sam Records, based in Belgium. We released a self-titled EP and the LP "Soul Train" on PIAS in 1989 and 1990 and another EP, "House of Boris" on Wax Trax! in 1991, all recoded by Steve Albini.
The desire to work with another producer led me to approach Jon Langford, who produced a full length LP for Wax Trax!. The label went bankrupt and the LP was never released. The band released two 7" singles, "Mikey" and "Joe" (two Joe Walsh covers) on Cargo Records, then were signed to C/Z Records and released our final LP, "El Mundo De Los Ninos" in 1994. We toured a lot, played to a lot of empty rooms despite a mountain of great press, and finally gave up after a gig playing to two people and a dog in Newark, New Jersey.
However, it was during the recording session that Jon Langford and I discovered our mutual love of old honky tonk. When Jon moved to Chicago, we played some gigs as a country cover band, beginning what became the Waco Brothers. Bloodshot founders Nan Warshaw and Rob Miller came to many of our early, ramshackle shows and asked us to record a single, which was released in 1995. Twenty-plus years on, we're still with Bloodshot and I think our output and live shows speak for themselves, for better or worse.
During this time period, I also formed a side project, Dollar Store with Wacos Alan Doughty and Joe Camarillo, along with guitarist Tex Schmidt. We released two LPs on Bloodshot, "Dollar Store" in 2005 and "Money Music" in 2007. The band went on (probably permanent) hiatus when Tex moved back to his homeland, Germany.
The Wacos many visits to Austin led to some strong friendships there, among them our Bloodshot label mates The Meat Purveyors. I've been collaborating and recording with Bill Anderson, Pete Stiles and Jo Walston since about 2007. The band is called Ice Cold Singles and, as of this writing, has a full length album about 80% complete.
While living in Austin from 2014-2016, I formed another band, TV White with bassist Hunter Darby and drummer Steve McCarthy. The idea of this band was to get back to my beginnings and play some straight ahead noisy pop, without any strong Americana influences. The band's self-released "Frozen Lake" 45 was released in 2018.
Due to an illness in the family and the desire to buy an affordable home, I moved back to Milwaukee in 2017, not having lived in my hometown in thirty years. Between Chicago and Austin, I felt like I had enough bands. The Ramblin' Deano solo material represented a way to play shows as simply and economically as possible. It also reflects my feeling that, in our current political climate, there should be more "protest" music, for lack of a better term. Releasing digitally allows me the satisfaction of having the songs heard quite quickly after I write them and, since they are topical, while they are still relevant.
In some ways, I feel like I'm just hitting my stride as a songwriter and musician, thirty-plus years down the road. I hope to add to this bio until my fingers, voice and brain don't work anymore.