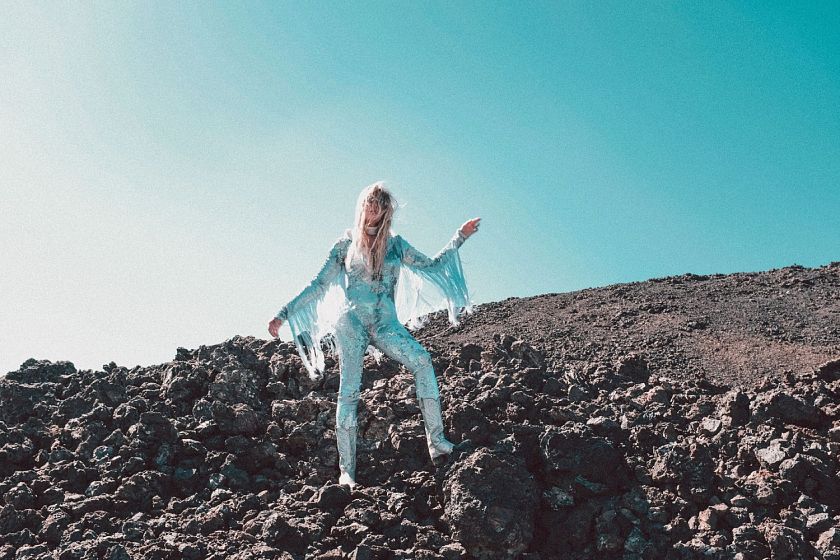 Elizabeth Cook
Elizabeth Cook
The years since the release of her last album have been challenging for singer-songwriter Elizabeth Cook, but like the true artist she is, Cook channeled those challenges into the strongest set of songs of her storied career, a song cycle that makes up her brilliant new album, Aftermath.
Cook's songwriting on Aftermath is highly sophisticated, but the subjects she addresses are some of life's most fundamental: love, family, heartbreak, addiction, death, and resurrection. "I never know how it's gonna go when I start these things," Cook says, "but as I was writing the songs, I was feeling more and more relieved about what was coming out of me because I was saying things I wanted to say."
As she began work on the material that would become Aftermath, Cook had just emerged from a black period in her life, a time which included a contentious divorce, an oppressive rebound relationship, an intervention and an involuntary stint in rehab, and a misdiagnosis of a mental health disorder accompanied by a prescription for life-numbing, antipsychotic meds. After being medicated mistakenly for a year, Cook realized she had to make a change.
"It's like drowning in the ocean, and then you have that moment where you're like, 'You know what, I'm not gonna drown now,' and you start fighting," she recalls. "I had a deep-seeded spark somewhere buried underneath all that chemical shit storm that was going on in my body and my brain. I instinctively started weaning myself off of it, and I started waking up.
"I remember watching something on TV, and I laughed, and my ribcage moved like it does when you laugh, and it like pulled my muscle a little," she continues. "I hadn't laughed and made that physical motion in so long, that it jarred my body. So that was how deep down and out of it I was."
As she began to feel more like herself, she entered a phase in which she sowed some wild oats, something she had never done. "I'd been in nothing but long-term relationships since high school," she explains.
That period, which she refers to as her "wild streak," informed several songs on Aftermath, most notably "Bad Decisions" and the very first song she wrote for the album, "These Days." Reflecting on that phase, she says, "I found that dark, I found it dark after I got it out of my system."
Cook wrote "These Days" in February of 2018, and over the remainder of that calendar year, she penned ten more new songs and finished another that was already in the works. "There's one song that didn't come completely from scratch in that time period, 'Daddy, I Got Love For You,'" she says. "That's kind of the strange one because it's actually three different songs that I'd been writing for about ten years. Then I figured out that it was all the same song, and that it all worked for the thing I was trying to process and get across, my complicated feelings around the death of my father. So that came together really cool."
Cook cowrote two of the songs,"Bad Decisions" and "Bayonette," with Jeff Adamczyk, who plays keys in her band, Gravy. "I wanted to write with somebody that wasn't a fucking guitar player," she says with a laugh. "I wanted to write with somebody that sits at a different instrument that is not as conventional to me and my music or hasn't been in the past."
Feeling emboldened and inspired as the songs took shape, Cook began looking for a producer to work with on the project. "I wouldn't give these songs to just anybody," she says. "I had some big-time producers, the favorites of the day, lined up to do it, but couldn't get comfortable because it didn't feel right for this material."
It was at that point that friend and fellow artist Aaron Lee Tasjan suggested that producer Butch Walker, an acclaimed hitmaker as both an artist (Marvelous 3) and producer (Green Day, Weezer, Avril Lavigne), might be good for the project. "I listened to what he had done recently, because I was really studying these producers and what they do and how their records sound and how they approach things like string arrangements, and their style," she explains. "When I heard what Butch had been up to, and I listened again to Rayland Baxter's record which I'd already heard and loved, I thought this is my guy."
As it turned out, Walker loved her daily radio show on the SiriusXM, Elizabeth Cook's Apron Strings. "I am a fan of her show on Outlaw Country Sirius XM radio," Walker says. "I remember sending her a message on social media to tell her I was. She said, 'thanks,' and that was that. Then awhile later, she hit me up and said she would love to make a record together."
At that point, most artists would have sent demo recordings of the songs to a prospective producer, but not Cook. "This is what sold me on her," Walker, who spends most of his time in Los Angeles, explains. "She didn't want to send me demos. She said 'I'm catching a flight and coming to you, and I'm gonna sit down and play you the songs and talk about them.' I love moxie."
After their meeting, plans were made for Cook to make the record in January of 2019 at Walker's Ruby Red Studios in Santa Monica, California. With the exception of Adamczyk, who had another commitment, she would be backed on the sessions by the members of Gravy: Andrew Leahey, guitars; Steve Duerst, bass; Herschel Van Dyke, drums; and Whit Wright, pedal steel, dobro.
"It was sort of a blind date," Walker says regarding working with Cook's band. "I didn't know any of them, and sometimes that can be tough because as a producer you have your comfort zone with certain players, etc. But I loved her confidence that these were the right guys for the sound she was chasing, and she was right." With Adamczyk unavailable, Walker brought in Aaron Embry (Elliot Smith, Blake Mills, Willie Nelson) to play keyboards.
Aftermath is Cook's seventh full-length album, and musically, it is her most adventurous and her most rock-influenced. While both 2010's Welder and 2016's Exodus of Venus found Cook moving in a rock direction, those records had a rootsier vibe.
Walker helped her craft a big sound on Aftermath that relies in no small part on Cook adding harmony tracks to her lead vocals. "I guess by default I don't record things very passively or subtle unless the song is super delicate and stripped," he says. "I wanted to hear the attitude that she has when she talks on her show or when she posts on socials."
"I'm saying some intense, personal things, and Butch has a way of punctuating them, like, 'Hey, listen to this,'" Cook says. "He's so energetic, he might pick up a triangle and ding it at one point in a verse that never happens again, but all he cares about is staying engaged and keeping that sort of intention of the moment, keeping the song punching and connecting, and he's a master, he's a ninja."
While Walker's influence is clear, the record never strays into inauthenticity, even when it addresses something inauthentic, as it does on "Perfect Girls of Pop," Cook's commentary on the artificiality that entraps young, female pop artists. Walker joins the band on guitar to give the song a quintessential, Southern California pop-rock vibe that perfectly matches the lyrics. "Thick Georgia Woman" gets a similar treatment, but also includes echoes of the Southern rock Cook grew up on, Allman Brothers, Lynyrd Skynyrd, Tom Petty; what she calls "that whole Florida, redneck hippie '70s gig."
Another song on the album that is a paean to her Florida honky tonk roots is "Stanley By God Terry," which she says is "a true story, every line of it" about the guy who co-fronted with her mother a bar band that also included her father on bass.
Cook explores various musical flavors on Aftermath, from the bouncy whimsey of "Bayonette," a musical nod to "Brand New Key," Melanie's No. 1 hit from 1971, to the haunting, pulsing drive of "When She Comes," a capsulation of her encounters with tabloid bloggers, or as she calls them, "smut peddlers." She even includes a traditional country number, "Two Chords and a Lie," albeit a contrarian one. "They say you gotta write three chords and the truth, that's how you write country music, that's how it's done. Well, I don't like the rules, I don't believe in any of that," she says and laughs.
Despite its musical variations, Aftermath is sonically cohesive, feeling very much like a concept album, and in many ways it is, dramatically chronicling Cook's journey into a personal hell and back.
The album closes with the song Cook finished only days before heading to Los Angeles to begin work on the record, "Mary, The Submissing Years." As it turned out, it's the one song on the record not recorded at Walker's studio. She cut it solo, vocal and acoustic guitar, at Creative Workshop in Nashville after the California sessions had wrapped.
"I was listening to John Prine's 'Jesus, the Missing Years,' and I couldn't get it off my mind," she says. "I wanted to direct some thought away from what can be the linear viewpoint of men. What about Jesus' mother? I don't think Mary gets a lot of airtime in the Bible considering her role.
"The challenge was anytime you wanna write an answer song to a John Prine, song, you better do it well. So it was a very intimidating song to write. But I decided to try it, 'cause even if I didn't like it, I didn't have to tell anybody about it.
"I printed out the lyrics of Prine's song, and I decided to just sort of parallel it, verse to verse," she continues. "When I sat down to do it, it was December 23, a day that I'd had marriage proposed to me many years ago, and I was completely alone. I had isolated myself the entire month of December because we were scheduled to go to studio January 3. I sat down at the kitchen table, and it came out pretty quick. When I got done, I just cried. That was the last song I needed, and it was a huge relief and a burden lifted on so many levels, beyond just finishing the material for the project when a deadline was approaching. It was something I needed to get off my chest."
The soaring "Half Hanged Mary" also gives voice to an overlooked female perspective, in this case that of a woman named Mary Webster who was accused of witchcraft and immortalized in a poem with the same name by Canadian writer Margaret Atwood, best known as the author of the 1985 novel, The Handmaid's Tale. The song imagines what happened to Webster after she survived hanging by a lynch mob, then returned to her Puritan town in Massachusetts.
As she looks toward the release of Aftermath on May 29, Cook is "thrilled" with how the album turned out. "This is the first time that I've been completely unchained, really," she says. "I wasn't in an oppressive relationship, I wasn't trying to meet some sort of label's expectation, I wasn't trying to meet some sort of market expectations. I was just completely unchained, and that's the way I wanna do it or not at all."