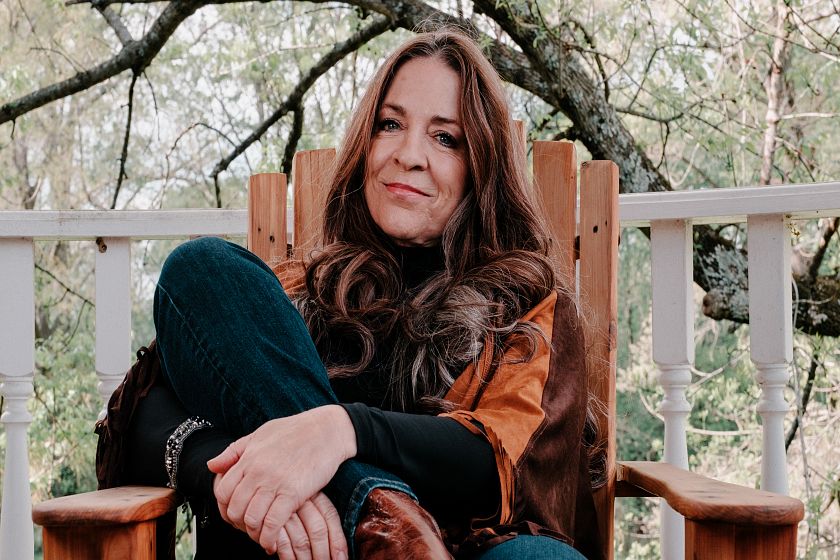 Carlene Carter
Carlene Carter
Carlene Carter has been releasing music for almost four decades. The daughter of June Carter Cash and country star Carl Smith, and stepdaughter of Johnny Cash, she is the physical embodiment of the Carter Family in the 21st century.
Her most recently album release was Carter Girl, a Don Was-produced collection of Carter Family songs and originals, inspired by her family. Carlene spent the better part of the last few years on the road with John Mellencamp on his Plain Spoken tour, both as a support act and joining him on stage nightly to perform duets. She also played a role in the touring production of Ghost Brothers of Darkland County, the southern gothic musical play written by Stephen King and Mellencamp. Upcoming is the release of Sad Clowns and Hillbillies, the 2017 album by John Mellencamp featuring Carlene Carter and includes newly penned songs by Carlene.
Carlene started her career singing with The Carter Family at 17. With the 1978 release of her self-titled debut album, she established herself on the edgier end of the country music spectrum, having recorded it in England with Graham Parker's band The Rumour. When Maybelle Carter died later that fall, Chet Flippo wrote in Rolling Stone that she "lived to see her granddaughter Carlene merge Nashville with contemporary rock and roll."
Her third album, Musical Shapes, still often cited as being ahead of its time for its blend of country and rock, was recorded with her then husband and producer Nick Lowe and his group Rockpile in 1980. Making their home in London, Carlene spent a year on the West End stage in the musical Pump Boys and Dinettes, then filled in for her aunt Anita one night when The Carter Family played Wembley with the Johnny Cash show. She ended up touring with them for the next two years, until she felt ready to go out on her own again, encouraged by Dwight Yoakam, who told her, "Carlene, there is a place for you in country music."
Working with producer Howie Epstein (of Tom Petty & the Heartbreakers), Carlene Carter became Nashville's homecoming queen of 1990 when her rockin' "I Fell In Love" topped the country singles and video charts, and the album was named one of the year's 10 best by Time, People, and Stereo Review. Award nominations followed for the Academy of Country Music's Top New Female Vocalist, and Best Country Vocal Performance, Female (for the I Fell In Love album) at the 1991 Grammy Awards. Her dynamic personality made her a natural as VH1's first country video hostess with her own daily hour, The Carlene Carter Show, and she had another smash hit single and video with "Every Little Thing," from Little Love Letters, in 1993.
Producing her next album, Little Acts of Treason, in 1995, Carlene got dad Carl Smith out of retirement for a duet of his hit "Loose Talk" (#1 for 7 weeks in 1955), and included The Carter Family and Johnny Cash on "The Winding Stream." Back on television with a series of specials for TNN, Carlene Carter: Circle of Song featured many friends and family members; and she made history with two other famous Nashville daughters, Lorrie Morgan and Pam Tillis, on what USA Today called "the first all-female major country tour" in 1996. Her first "best of" collection, Hindsight 20/20, with 20 songs spanning 20 years of her recording career, was also released that year.
European tours and appearances on other albums continued, including a Waylon Jennings tribute covering his anthem "I've Always Been Crazy," but Carlene's life was devastated by the deaths of longtime partner Epstein, mother June, stepfather Cash, and sister Rosey Nix, all in 2003. Her performance of "Jackson" with Brooks & Dunn at the Johnny Cash Memorial Tribute Concert (which The Tennessean named "the show's emotional highlight"), led to Carlene being cast as her mom in Wildwood Flowers: The June Carter Story, a 2005 Nashville stage musical about June's early years with Mother Maybelle and the Carter Sisters. The show ended with Carlene's emotional tribute to her grandmother and Rosey on "Me and the Wildwood Rose" segueing into "Will The Circle Be Unbroken."
Carlene continued to honor Rosey on the title track to her next CD, Stronger, produced by old friend and musical collaborator John McFee (of The Doobie Brothers and Southern Pacific) in 2008. Elvis Costello called the record "astounding," and Bernie Taupin wrote that it was "a staggering achievement by one of the great voices and fearless hearts of country rock." USA Today said simply, "It's great to hear her again."
Carlene Carter's songs have continued to be heard again too, as "It Takes One To Know Me," her long-lost birthday present to her stepdad when she was 19, closed the Johnny Cash box set The Legend in 2005; and "Easy From Now On," first recorded by Emmylou Harris in 1978, was included on the 2007 #1 Crazy Ex-Girlfriend CD by Miranda Lambert, who said, "That's a ridiculously great song." Another one of the current generation's strong female country singer-songwriters, Ashley Monroe, is a distant relative of both the Carter and Smith families, and as she told CMT News, "I grew up knowing Carlene was my cousin as well. Wore her little tapes out." Sirius Outlaw Country radio host and frequent Grand Ole Opry guest Elizabeth Cook says, "Carlene is my hero."
"I wrote [the Carter Girl album] thinking of the Carter Family's flowery lyrics and romantic themes," Carlene says, noting, too, that the Carter Family catalog is heavy both on songs of faith and far darker fare. Turning to Carter Girl, she notes that all these facets of the Carter Family's pioneering work which are reflected in a stunning album achievement that honors her ancestors while confirming her proud place among them.
More recently, she's been touring with John Mellencamp following her appearance in the road company of Ghost Brothers of Darkland County, the musical play he wrote with author Stephen King. That collaboration led to a new joint effort Sad Clowns & Hillbiliies. She duets with Mellencamp on the album, sings backup and plays guitar and autoharp. Her songwriting skills are heard on "Indigo Sunset" which she wrote with Mellencamp and on Damascus Road," her own composition.
Carlene Carter

4:30 PM - 5:45 PM

Carlene Carter

9:30 PM - 10:45 PM