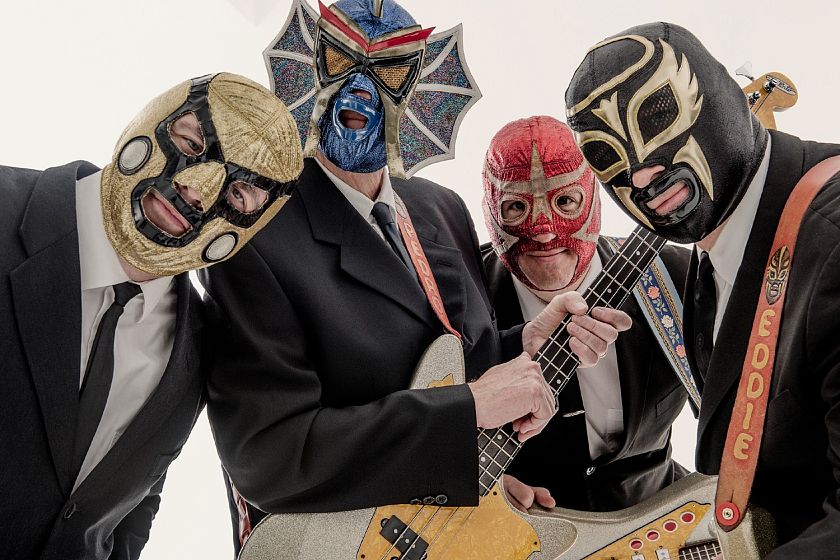 Los Straitjackets
Los Straitjackets
Masked marvels of instrumental rock, Los Straitjackets were the first band with the vision to realize reverb-drenched guitars and Lucha Libre were meant to be together. Playing in a style that owes a debt to veteran instrumental acts such as the Ventures, Duane Eddy, and Dick Dale, and never taking the stage without their trademark Mexican wrestling masks, Los Straitjackets deliver crisp guitar work with twang and reverb for seasoning, a no-nonsense rhythm section, solid instrumental skills, and a pronounced sense of humor. While the bulk of their catalog is instrumental, they've collaborated with vocalists such as Nick Lowe, Deke Dickerson, Big Sandy (of Big Sandy & His Fly-Rite Boys), and Raul Malo (of the Mavericks), and they can build albums around themes such as swingin' '60s pop (2006's Twist Party!!!), the arrival of Santa Claus (2002's 'Tis the Season for Los Straitjackets), Latin rock & roll (2007's Rock en Español, Vol. 1), and popular television theme songs (2019's Channel Surfing).
Los Straitjackets got their start in Nashville in 1988 when guitarist Eddie Angel, who had been a member of the noted rockabilly revival act the Planet Rockers, teamed up with Danny Amis, a former member of the Raybeats. Joining forces with drummer J.L. "Jimmy" Lester, they began playing clubs in Music City as the Straitjackets, but retired the group after a few months. In 1994, they decided to give it another try, this time as a quartet with bassist E. Scott Esbeck on bass and a new visual gimmick, with the bandmembers wearing gaudy masks like those worn by Mexican professional wrestlers. With their moniker changed to Los Straitjackets, the group's retro-instrumental style caught on, and the Rounder-distributed Upstart Records label teamed up with the band to release their debut album, 1995's The Utterly Fantastic and Totally Unbelievable Sound of Los Straitjackets. After their first major American tour, the band returned to the studio to cut their second LP, 1996's ¡Viva! Los Straitjackets. Word about the group began to spread among fans of roots rock and retro sounds, and they were one of the first acts signed to the roots-friendly independent label Yep Roc Records. Los Straitjackets' first Yep Roc album, 1999's The Velvet Touch of Los Straitjackets, would be their last with E. Scott Esbeck; he left before the sessions were completed, and Pete Curry, who had worked with the group the Halibuts, took over on bass. Their raucous live show was documented on the live album Damas y Caballeros!, released by Yep Roc in 2001, and that same year, a bevy of guest vocalists (from Paul Revere & the Raiders frontman Mark Lindsay to "The Mexican Elvis" El Vez) joined the group in the studio for the fittingly titled Sing Along with Los Straitjackets. As if two albums in one year weren't enough, 2002 saw the group honoring the holidays with a Christmas album, 'Tis the Season for Los Straitjackets. In 2003, they backed up legendary blues guitarist Eddy "The Chief" Clearwater on his album Rock 'n' Roll City, which earned them a Grammy nomination. The Masked Men also unveiled an album of their own in 2003, Supersonic Guitars in 3-D. Twist Party hit the stores in 2006, introducing drummer Jason "Teen Beat" Smay, who replaced L.J. "Jimmy" Lester, after he left the group the previous year.
After releasing the all-star Rock en Español, Vol. 1 in 2007, which teamed the instrumentalists with a handful of vocalists and producer Cesar Rosas (of Los Lobos), Los Straitjackets returned in 2009 with The Further Adventures of Los Straitjackets, a back-to-basics album that nixed guest singers and horns in favor of Los Straitjackets' core rocking guitar sound. The quartet expanded to a quintet in 2010 when Los Straitjackets added a third guitarist, Greg Townson. Arriving in 2012, Jet Set marked the return of Amis to the band after recovering from a difficult illness; the album was recorded at the Pow Wow Fun Room Studios in Los Angeles, produced by Janne Haavisto, and featured guest spots from the Basic Cable Horns (best known for their work on the Conan television show) and Finnish actress and musician Irina Björklund. Shortly afterward, drummer Chris Sprague replaced Jason Smay and in 2013, Los Straitjackets shared billing with the Fleshtones and Southern Culture on the Skids for an album of horror-themed retro-rock, Mondo Zombie Boogaloo. Los Straitjackets renewed their commitment to "instrumental music with vocals" on the 2014 release Sings the Great Instrumental Hits, with Deke Dickerson (fittingly a man more celebrated as a guitarist than a singer) warbling little-heard lyrics to popular instrumental tunes, including "Pipeline," "Walk Don't Run," and "Honky Tonk." In 2014, Nick Lowe recruited the Masked Marvels to be the backing band on his "Quality Holiday Revue" tour in support of his Christmas album Quality Street. By all accounts, both Lowe and his fans were delighted with their performances on the tour, and a live album documenting one of the shows, The Quality Holiday Revue, was released in 2015. Still under the influence of Nick Lowe, Los Straitjackets next recorded a full album of instrumental versions of songs from his catalog. The LP, What's So Funny About Peace, Love and Los Straitjackets, was released by Yep Roc Records in May 2017. In June 2019, Los Straitjackets unleashed a four-song EP, Channel Surfing, in which they put their unmistakable stamp on the signature music for several popular TV shows, including Game of Thrones. The band cut the EP as a quartet, with Angel and Townson on guitars, Curry on bass, and Sprague on drums. Throughout the pandemic, the band has remained busy—releasing three long distance collaborations with Lowe and several Los Straitjackets tracks- both originals and covers ("In My Room" done instrumentally).