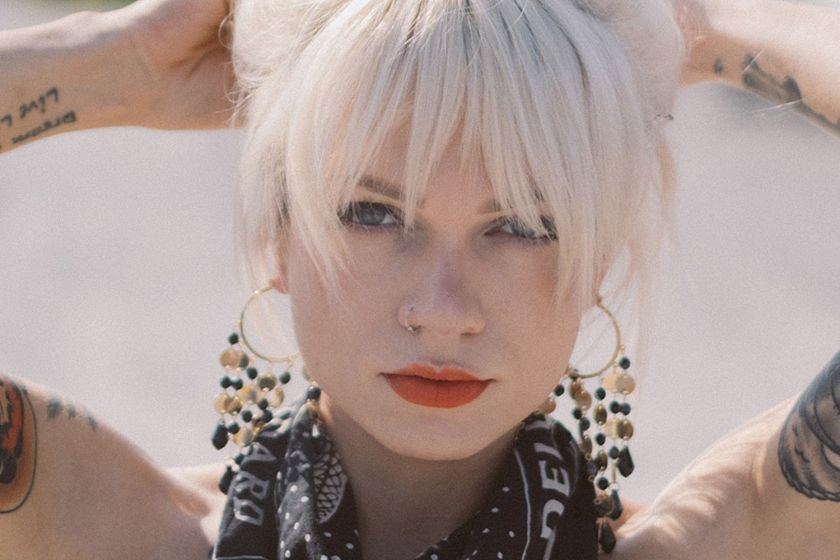 Lillie Mae
Lillie Mae
Music has always been a major part of singer/songwriter/guitarist/fiddle player Lillie Mae's life. At the age of 3, Mae started performing and playing with her family band at churches, fairs, festivals and theme parks. The family moved to Nashville when she was 8, expanding their profile —and her own experience. They were soon playing at bluegrass festivals and at Dolly Parton's dinner theater show in Myrtle Beach. Traveling and performing became the norm. The family would work with Cowboy Jack Clement, in addition to recording and touring consistently.
By the time she was a teen, Lillie Mae and her siblings were tearing it up. They formed Jypsi and were signed to Arista Records when she was 14. The group experienced success with two Top 40 singles on the Hot Country Songs charts.

However, that success didn't last. The fickleness of the major label system caused Jypsi's album to be shelved. But Lillie Mae would go on to success as a studio musician, performing with many top musicians, including Dwight Yoakam, the Grammy-nominated Michael Kiwanuka, Dean Fertitta and Jack White.

Mae met the Third Man crew when White's long-time engineer Josh Smith suggested that she and her sister Scarlett record for The Lone Ranger soundtrack. Around that time, White was putting the finishing touches on his solo debut, Blunderbuss, and enlisted Mae for "Take Me With You When You Go." After that, White invited Lillie to join his all-female touring band. With Jypsi on hiatus, she accepted the offer.
Those journeys with White brought her to some of the biggest festival and concert halls in the world. One show, in particular, stands out. In 2014 as part of White's Lazaretto tour, Lillie Mae performed at Neil Young's legendary Bridge School benefit show. When all of the musicians assembled for the show's finale, Mae interacted with Young, a moment which remains a career thrill — as was playing fiddle for Robert Plant. After meeting him while on tour with White, Plant entrusted her to play in his Shapeshifters band when his fiddle player couldn't make a show. The ex-Led Zeppelin frontman appreciated the performance so much that he enlisted her for more shows, and even had her open for him.
After she was off the road with White, she'd go on to release two albums, 2017's Forever and Then Some and 2019's Other Girls, on Third Man Records.In 2021, Mae went back in the studio, but knew she wanted to make a record outside of Nashville — instead working out of Texas. She enlisted Beau Bedford to produce the album and her family to serve as her backing band. Consisting of eight songs, Festival Eyes fulfills her vast promise as a songwriter and performer. These heartfelt songs are drawn from her own experiences, including the devastating loss of her 17-year-old dog ("Cherry Pie"). The title track is a bit lighter, inspired by a conversation Mae had about how at the end of a festival day, your make-up has as much wear-and-tear as the day itself. "Love Is Love" is Mae reflecting on love equality and how it's still difficult for people to be themselves within society's parameters.

Festival Eyes also includes a cover of Neil Young's "Razor Love." The song was introduced to her by Bedford, and quickly became a favorite. Inspired by her mother's maiden name, Razor, the song's pure look at love cuts through with Lillie Mae's beautiful vocals and composition.
That album, however, wasn't the only major change that occurred this decade for Mae. She married guitarist Craig Smith, who has performed with her in the studio and with other artists like Jim Lauderdale. In 2022, the two welcomed a child, which gave the young family a new focus. As someone who was raised on the road herself, she understands the importance of family both at home and outside of it.
In late 2022, Lillie Mae played her first show in several years on SiriusXM's Outlaw Country Cruise. She was excited to collaborate and perform with other musicians, but has even bigger plans for 2023. As great as it has been to be in Nashville and playing on other records while watching her home garden grow, Mae is ready to rock. Armed with this new album, she's itching to get back on the road to perform, ready to thrill both longtime and the new fans she'll greet for the first time.