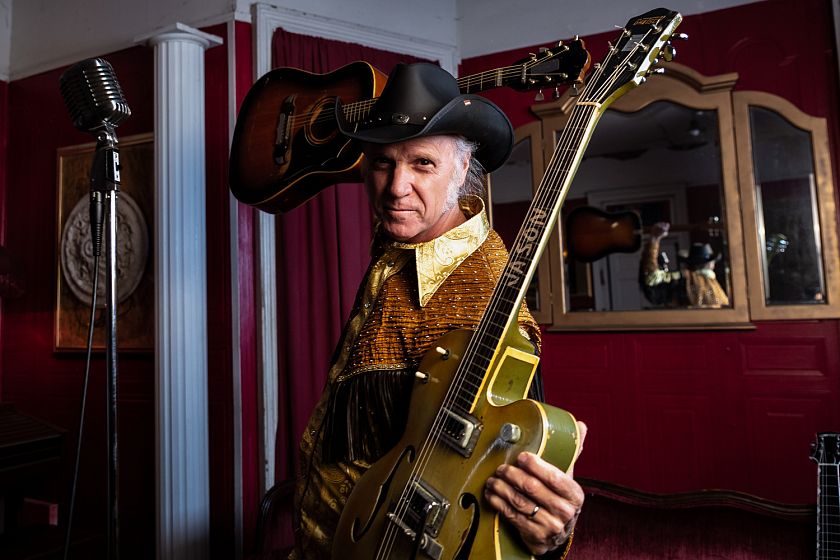 Jason Ringenberg & His Barnstormers
Jason Ringenberg & His Barnstormers
Ever since moving from his family's hog farm in Northern Illinois to Nashville, TN, in 1981, Jason Ringenberg has been an iconic Americana artist since day one. He pioneered the genre from his high-energy roots-rock band, Jason & The Scorchers, to his Emmy Award-winning children's music with Farmer Jason and to his solo efforts as himself carving out a space all his own.
Jason's reverence of country music and rock music has always been his forte, mixing the sounds of Hank Williams, The Ramones, and a dash of Bob Dylan and his tenor voice. In his songs, he tears out pages of history books, doubts Shakespeare, and praises The Bible to express his innermost feelings. His latest album, Rhinestoned, has carried the torch even further and gotten worldwide praise from magazines and radio.
"Ringenberg shines on Rhinestoned with his canny songwriting, his propulsive and bright guitar work, and raw vocals. He's an expert at going straight to our hearts with a lyric wrapped in a tune sodanceable that the words linger long after the song's finished." – No Depression
"…possesses a ready wit and an insightful attitude that's made each of his offerings well worth attaining." — American Songwriter
Jason has been awarded an Americana Music Association Lifetime Achievement Award, a TV Emmy, and an exhibit in the Country Hall of Fame. On June 4, 2021, Jason made his Grand Ole Opry debut after 40 years of arriving in Music City, performing and giving the audience a dose of musical whiplash. Jason continued to tour through the year, playing Eddie's Attic, City Winery – Nashville, Chicago, North Carolina among the stops. In the summer of 2022, he made an overseas trip to The Netherlands, UK, and Belgium, where he played the infamous Sjock Festival with Mike Ness, who praised Jason from the stage. On November 11, 2022, Jason graced the independent own and operated legendary venue, Exit/In in Nashville, with his new band, Jason Ringenberg & His Barnstormers, and set fire to an already scorched stage. The evening was billed with Government Cheese and Fats Kaplin & Kristi Rose. It was a three-hour night that no one there will ever forget.
As 2023 begins to rev its engines, Jason will be going back overseas twice, once in the Spring and then back in the Fall. Listen to why Mojo Magazine in the U.K. calls Jason Ringenberg; "the Godfather of Americana music."