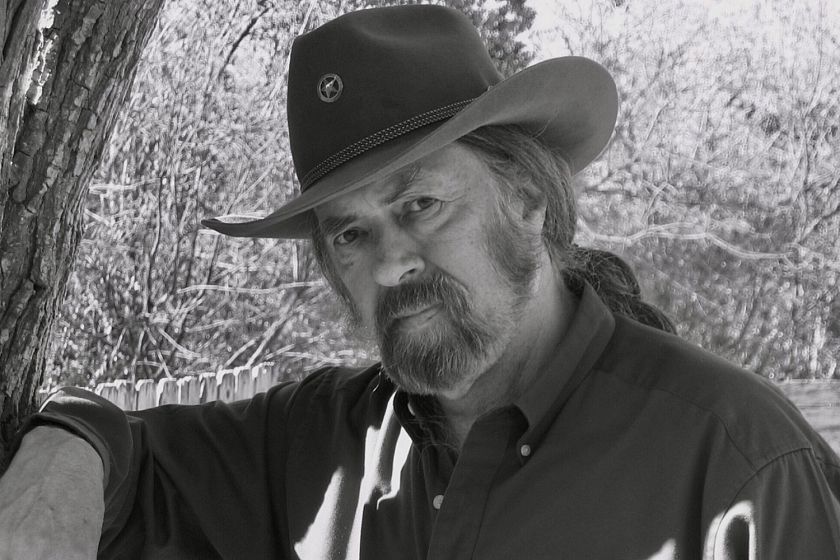 Augie Meyers
Augie Meyers
Augie began his career as a keyboardist in a garage band in San Antonio, Texas. Raised by his grandparents, he had polio as a child and needed the aid of crutches to get around. But nothing ever held Augie down. His grandparents simply tied a rope around one leg and the other end to the piano leg. Tethered there, he eventually learned to play that old piano! Eventually, his musical ambitions took him a step further; he learned to play the Vox organ... then on to the accordion. The rest is history.
In the 50s, he began to play with pop bands around the city. It wasn't long before he met his lifelong friend, Doug Sahm. The two went on to be known as the world renowned "SIR DOUGLAS QUINTET". They toured the world during the British invasion of the 60s, and were one of the first American bands to sport the "new" long hair made famous by the Beatles. Their trademark songs 'MENDOCINO' and 'SHE'S ABOUT A MOVER' were instant hits on both sides of the ocean. As a matter of fact they are still very famous in Europe and the U.S.A. At about anytime, day or night, there is some radio station somewhere playing the music of the "SIR DOUGLAS QUINTET".
When Augie plays live or on CD, you can expect to hear music delivered with the wide open, charismatic flair, and unpretentiousness. That's been his trademark for many years. His single 'KEP-PA-SO', released on his 8th solo album 'MY MAIN SQUEEZE', received nalionwide attention which got his cohorts, Doug Sahm, Freddy Fender, and Flaco Jimenez together to form the super Tex-Mex group "THE TEXAS TORNADOS". This group went on to win a Grammy in 1990 for the 'BEST MEXICAN-AMERICAN' group. The sudden and unexpected death of his lifelong friends Doug Sahm in 1999 and Freddy Fender in 2006 has left a definite void in Augie's life. Flaco and Augie however, have resumed their individual careers.
No one has ever been able to classify Augie Meyer's music as fitting any of the major musical categories that were so strictly adhered to by radio stations and booking agencies. It was difficult to get air play on his records because the Country stations thought they had too much Rock content. The Rock stations said the accordion gave it a Spanish Conjunto flavor, and the Spanish stations wanted the lyrics in Spanish.
Radio stations keep broadening Augie's range of music they air, and the strict dividing lines of music classifications are beginning to disappear, which can only mean wider acceptance and exposure of his kind of music. Augie says. "HELL MAN, I JUST SING AND PLAY WHAT I FEEL. I DON'T CARE IF YOU CALL IT ROCK, JAZZ, COUNTRY, CONJUNTIO, OR TEX-MEX, JUST SO IT TURNS YOU ON."
Recently, Augie has begun to tour with his own band. His trademark 'KEP-PA-SO' has become somewhat of an anthem, not only in Texas but world wide! He has music giants as Bob Dylan, Tom Waits and John Hammond to name a few. Not bad for a "good ole boy" from San Antonio, Texas.
His "WHITE BOY' Rhythm and Blues CD has gained fans around the globe for it's good time soulful music. It was nominated for a Grammy. 'BLAME IT ON LOVE' is a mixture of Country and Blues. His recently released CD, "MY FREEHOLIES AIN'T FREE ANYMORE' lends itself to good timing Mexican polka groove with underlining Augie's lyrical wit. Lastly, a brand new Country CD is in the works.
He plays Country, Tex-Mex / Texas Blues sound around the world as the Ambassador of Texas Music throughout his travels.
Quotes written by:
Bob Dylan: "Augie's my man. He's like an intellectual who goes fishing using bookworms. Seriously though, he's the shining example of a musician, Vox player or otherwise, who can break the code. His playing speaks volumes. Speaks in tongue, actually. He can bring a song, certainly any one of mine, into the real world. I've loved his playing going all the way back to the Sir Doug days when he was featured and dominant. What makes him so great is that internally speaking, he's the master of syncopation and timing. This is something that cannot be taught. If you need someone to get you through the shipping lanes and there are no detours, Augie will get you right straight through... Augie's your man."
John Hammond: "Augie is one of the gems of the universe and is one of the greatest musicians that I've had the honor of working with. His musical instincts are impeccable, he's just a natural."