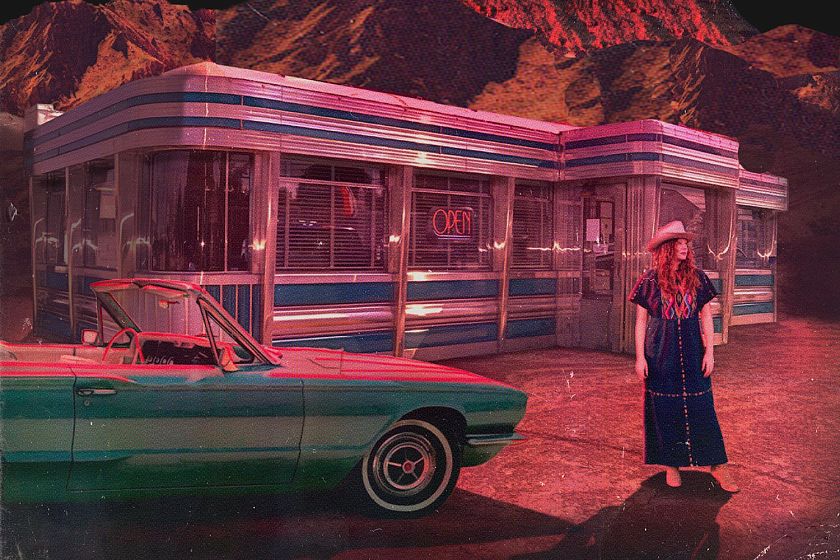 Kaitlin Butts
Kaitlin Butts
Words can hurt. They pierce and puncture when hurled and thrown. They slash and gash–the cause of last night's mascara-dyed tears. They can heal. They cure a heart's forlorn ache. They mend old fences and rectify past undoings. Words, they warm, spark and set ablaze.
Country music's Kaitlin Butts' What Else Can She Do finds the emerging songwriter delivering a collection of delicate, strong, and gallant characters and transformative storytellers. What Else Can She Do is a visceral display of just how raw and mighty words and actions can be–and how sometimes, knowing when to walk away can be just as compelling.
"These songs are all stories from different women facing the question: What else can she do," says Butts. "I don't think that life is all that pretty sometimes and it comes with pain and pushing through hard times, or being stagnant, going through the motions, and not knowing what to do, or just being flat-out angry with whatever life has put on your plate."
Following up her delightful debut Same Hell, Different Devil and a diverse run of singles–the cosmic dancer "Marfa Lights," haunting murder ballad "White River," and the sweet tranquility of "How Lucky Am I,"–What Else Can She Do finds the Oklahoma songwriter in full blossom. Behind her flowing locks of auburn hair, Oklahoma twang, and a wry grin, grows a demanding voice and equally devastating storyteller.
The cast of characters she introduces this time around offers hope in midst of crumbling worlds. Ambition and beauty grow in defiance of yesterday's peril and pitfalls. Despite their current strife, the women of What Else Can She Do will persevere and endure. Butts reminds us that even when you're stuck between a rock and hard place, you either remain stuck in that rut and perish or you can be the hero of your own story. More often than not, Butts' bruised-but-not-broken ensemble does just that. They're on the cusp of rebirth and bliss.

"There's definitely this tension and them being at their lowest point," says Butts of What Else Can She Do's protagonists.

All too often in Western society and culture, we cast women as damsels in distress waiting for a hero to save them from misery. They're characterized as vindictive heartbreakers out on the prowl. One-dimensional and flat. But much like Country music's godmothers–Loretta Lynn and Dolly Parton–What Else Can She Do flips the paradigm. Rooted in reality and shaped by everyday occurrences, Butts' brand of storytelling and character development proves strong women have bad days and are as multi-faceted as their real-life counterparts. They too contain multitudes.
Like many a songwriter, Butts can easily play the part of the observant daydreaming wallflower, but perhaps her strongest gift is being an earnest listener. She plucks lines and the emotional weight they carry and delivers them through a lens of attentive purity.
"I've been watching the world around me, seeing what friends and family go through. Writing about those things helps me feel more at peace," says Butts. "It's important to tell these stories because when someone's going through that exact thing, they'll know they're not alone."
Butts jokingly says she's "a mini therapist" for some of her friends and family, noting that "sometimes all we want to be, is seen."
A definite tone-setter for the album, "blood," a quaking plea and declaration written with veteran songwriter Angeleena Presley, Butts demands accountability from kin and kith all the same. Armed with a boisterous, gloomy bassline, Butts calls out gaslighting and the bevy of excuses often used to take shots and parting blows–all in the name of unconditional family ties as justification.